| | |
| --- | --- |
| A long and honorable career | |
Once back in Boston, Sam continued the rabbinic tradition of his forebears, but expanded it to encompass a broader scope. Not the kind of man to sit in his father's shadow, Sam had broader ambitions for himself and he had a love-hate relationship with the role of rebbe as it was evolving in the Boston community and in other Hasidic communities in America.
Joseph Korff expounded on his father's career:
"There are Hasidic dynasties that are in effect the government for their people, even in America. They provide social support, educational support, and help the community interrelate with the secular world. Their role is to further tradition and provide social resources supplementing and complementing those available from the government. There are heirs to this tradition and my father respected them. However, my father couldn't have gone that route. The Hasidic community in Boston was a relatively small one and wouldn't have supported him financially. He didn't want to subsist on people's donations. More importantly, the Hasidic community wasn't large enough to deal with my father's goals and ambitions. "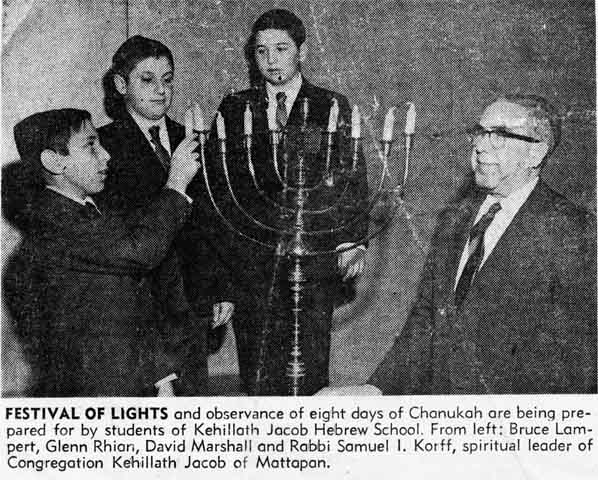 In 1938, Samuel Korff became the spiritual leader of Congregation Kehillath Jacob, an Orthodox synagogue on 18 Fessenden Street in Mattapan. He built up the membership to over 800 families and the congregation became one of the most influential in the area. An article in the Jewish Advocate published in 1958, captures the essence of Samuel Korff's tenure at Kehillath Jacob:
"...Rabbi Korff has followed one line of dedication; he has brought godliness down from the pulpit and into the homes, lives, and very souls of those he has taught, and those who have learned from him without the knowledge that they were learning. His love of young people and understanding of their special needs became apparent to his congregation very early in his career.
"In 1938, then only twenty-four years old, Rabbi Korff was called to Kehillath Jacob. We want you with us, he told his young people, and being wanted, they came.
"This was not a job to be done through preaching alone, so Rabbi Korff came down from the pulpit. I set out to mingle with the young people, he says. I learned to understand their problems and their needs. They came to me with their troubles. My home became a gathering place for the youth.
"He set out to found a junior congregation. He founded lecture groups, social clubs, basketball teams—groups for different age levels from nine to twenty-five years of age. The plan was to take the young people from the periphery of religious life and make them the center of all its activity. It was to found a youth movement compounded of all the facets of community life; athletics, social welfare work, religious culture, and social life. It was to make youth important in religion and thus make religion important in youth.
"When the JAPS bombed Pearl Harbor and America went to war, Rabbi Korff's youth movement was beginning to grow and prosper. The war punctuated the movement's first phase. The members of his youth movement were scattered on battlefields all over the world. Yet, the work had not been in vain. Letters came in from Anzio, or Saint Lo, assuring the rabbi that the young people had not forgotten his ideal. Before World War II was ended, Rabbi Korff had already organized the first World War II Jewish War Veterans Post in the Commonwealth.
"Meanwhile the activities of the youth movement [had] been carried on by those too young to enter the armed forces. For them, Rabbi Korff founded 'Teen-Town,' a youth metropolis that enrolled almost 800 young people of all ages, divided into separate groups for special interests of activity. He then inaugurated a campaign for a community center and a Hebrew School building. The congregation expanded. New members swelled its ranks. Young adult and adult groups flocked to the portals of Kehillath Jacob and its institute of religious study. The slogan was Make Kehillath Jacob a place for every member of the family." <![if !supportFootnotes]>[1]<![endif]>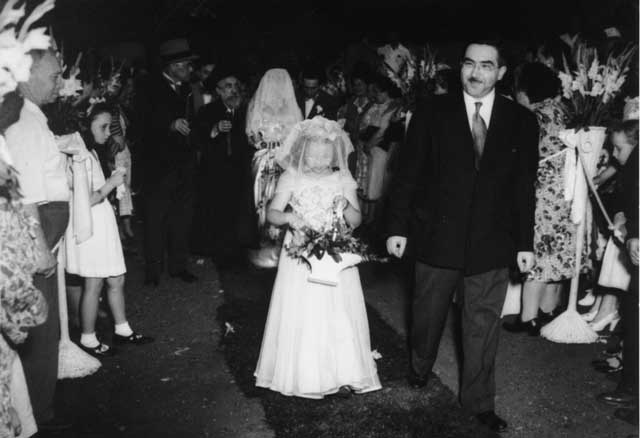 Samuel Korff in the wedding processional of one of his sisters. His father, Grand Rabbi Jacob Korff, can be seen in the background accompanying the bride down the aisle.
---
The Associated Synagogues of New England
Samuel Korff's role was not limited to congregational rabbi. According to Joseph Korff:
"My father was one of the founders of the Associated Synagogues of Massachusetts, which later became the Associated Synagogues of New England. The organization represents all branches of Judaism in service to the New England Jewish community.
"The Orthodox tend not to join organizations like the Associated Synagogues, but his colleague Rabbi Mordechai Savitsky [spiritual leader of Congregation Chevra Shas in Dorchester] encouraged my father to become a member of the Vaad Harabonim, which was part of the Orthodox wing.<![if !supportFootnotes]>[2]<![endif]> Savitsky and my father had a falling out and Savitsky dropped out of the Vaad. My father became the rabbinic administrator of the Associated Synagogues, a role which was akin to executive director. He ultimately built the organization into the Associated Synagogues of New England.
"Some members of the Orthodox community castigated my father for being associated with an organization affiliated with Conservative and Reform Jews, but he got concessions from these groups. One was that within the Associated Synagogues the Vaad would be the functioning rabbinic court and it would be controlled by the Orthodox.
"My father also wanted to centralize kashrut <![if !supportFootnotes]>[3]<![endif]> certification so that observant Jews throughout the area could be certain that Jewish dietary laws had been observed in food preparation. He got all the synagogues and temples in the area to agree that they would admit only those kosher caterers certified by the Vaad Harbonim. This centralized kashrut for all of Massachusetts and later, New England. This was a major coup but it led to some friction because some of the Orthodox rabbinate wanted to have the income generated from supervising kashrut. So they tried to attack my father. Through the Associated Synagogues, however, my father had sufficient leverage to carry out his goal. He later advanced this program by establishing an extension program to certify packaged food as kosher."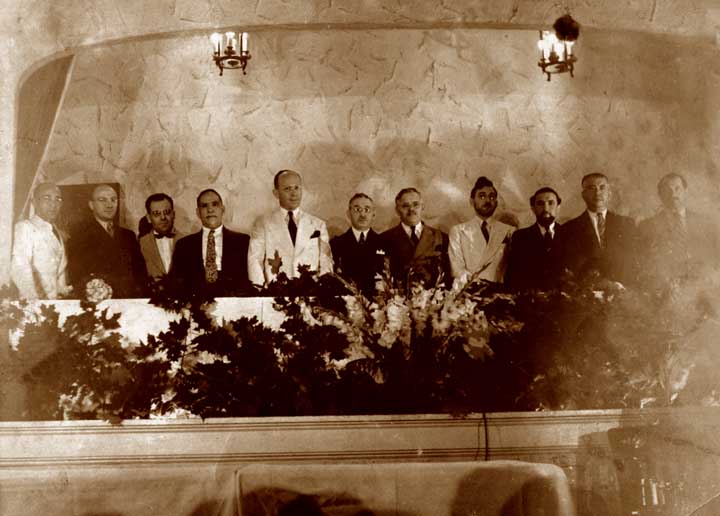 Unidentified ceremonial function. Samuel Korff is the sixth from the right; his brother Baruch is the fourth.
<![if !supportFootnotes]>
<![endif]> <![if !supportFootnotes]>


<![endif]>

[
1
] [
2
] [3] [
4
] [
5
] [
6
] [
7
] [
8
] [
9
] [
10
]<![if !supportFootnotes]>
---
<![endif]>