| | |
| --- | --- |
| The Secular Community | |
Rabbi Samuel Korff functioned as well within the secular, non-Jewish community as he did in the Jewish community, combining Jewish scholarship with political savvy. He was vigilant in his fight against anti-Semitism, which was never far from the surface in largely Catholic Boston. In the 1940s, this hatred was fueled by Father Leonard Feeney, a rabidly anti-Semitic priest who vilified Jews in sermons delivered on the Boston Common.
An article in the Jewish Advocate published in 1958, described how Rabbi Korff handled the rise of anti-Semitism in his community:
"In 1941…a wave of anti-Semitic incidents [inundated the Dorchester-Mattapan area]...Throwing the force of his small frame against lethargic officials, Rabbi Korff asked for the safeguarding of those principles without which this nation could not exist. Everyone is responsibility if he is indifferent to the situation.

"Rabbi Korff was never indifferent to any situation which threatened the well-being of his community...He organized a Good Neighbor Association 'for the purpose of promoting and fostering mutual understanding, friendship, and cooperation among the inhabitants of communities regardless of race, color, or creed.'
"On $2.50 found in a dead soldier's pocket on Guadalcanal, the first war casualty from his neighborhood, he consolidated the group into a living force for democracy. [In 1944] he was instrumental in bringing about the Good Neighbor Conference on Anti-Semitism [a symposium for leaders of all faiths.]"<![if !supportFootnotes]>[1]<![endif]>
In November 1943, Rabbi Korff addressed the Religion and Labor Foundation Conference at the CIO convention in Philadelphia. (The CIO was a labor union, which joined with the AFL to form the AFL-CIO.) Among the foundations' representatives were delegates from 30 theological seminaries. Rabbi Korff led a panel on church and labor and their roles in promoting racial unity in the post-war world.
Samuel Korff's outreach to the secular community manifested itself in other ways. According to Joseph Korff:
"During the Hitler era, my father [like his brother Baruch] was active politically promoting Jewish causes and getting people out of Europe, but he did this quietly.
"After my grandfather's death, my father picked up his political contacts with John W. McCormick the Speaker of the U.S. House of Representatives [for whom Baruch was a speech writer] and other leaders. When I was doing a political science project at Brandeis, he set up an appointment with McCormick for me.
"In 1947, Mayor James Michael Curley appointed my father as the first Jewish chaplain of the Boston Fire Department. This was a position he held until his death. I think it happened because my father built up his role as administrator of the Associated Synagogues to function with the political community of Boston. If someone had a Jewish question who did they call? The Associated Synagogues. And who do they get? Rabbi Korff.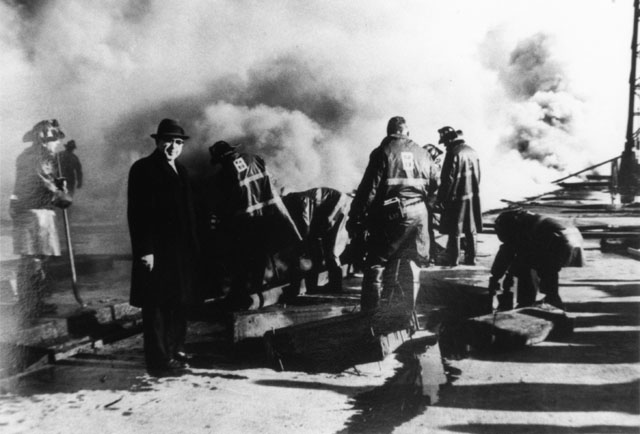 Samuel Korff on the job as Jewish chaplain of the Boston Fire Department
"In the early years he went to fires. He had a chauffeur who drove him around in his official fire department car. Occasionally when I was late for school I got a ride in it. My father administered to the few fire fighters who were members of the Jewish faith. I can remember fire fighters coming to the house for counseling; this was part of the chaplain's function. He would represent the Jewish faith at organized functions at which someone was required. Later in his life, he also served as Jewish chaplain at Deer Island House of Corrections.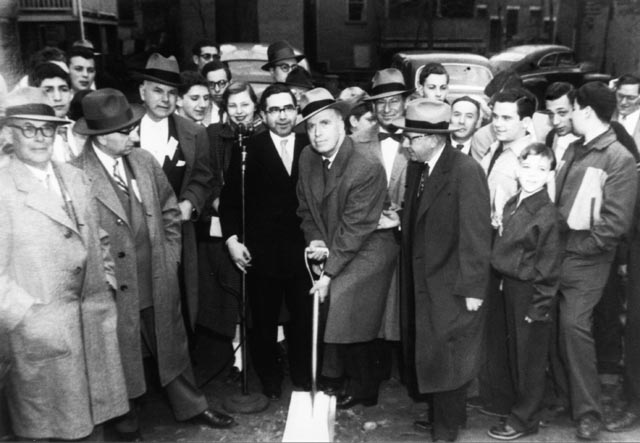 Samuel Korff at a groundbreaking ceremony in Boston with Mayor Curley
"My father could have played a larger role on the national Orthodox stage, but he had too many things going locally to find time for that. He did not have rich donors, which may have sustained prior generations of rabbis in their public endeavors, and the need to keep his family in a middle-class lifestyle, may have precluded his entry into the national arena. However, for many years my father did conduct weekly radio programs over CBS, lecturing on topics of Jewish interest."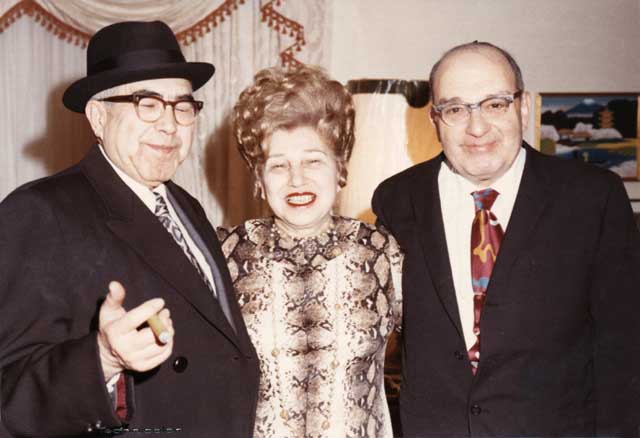 Despite his hectic schedule, Samuel Korff made time for his sister Adele and her husband Max Gass (above). Samuel and Nesha celebrating a happy occasion with his sister Adele and her husband Max's family. Left to right: Minnie & Joe Alter; Ida, Jonas & July Ullian; Max, Janet & Adele Gass. Sam & Nesha, Shiela & Sam Fish (below)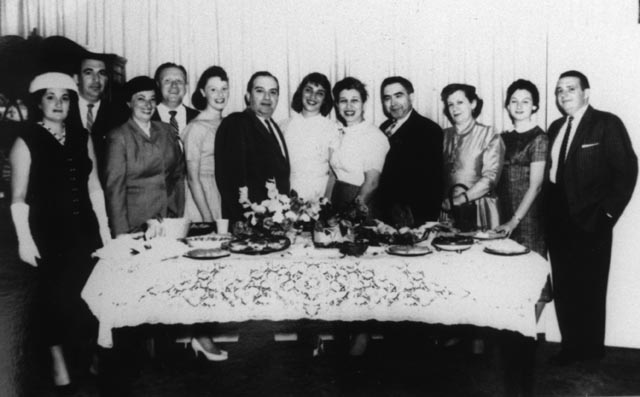 ---
<![if !supportFootnotes]><![endif]> PUBLIC TRIBUTe<![if !supportFootnotes]><![endif]>
In May 1958, Congregation Kehillath Jacob paid tribute to Rabbi Samuel Korff in honor of the 25th anniversary of his ordination and in recognition of 20 years of distinguished spiritual leadership to their congregation. One thousand people paid their respects, including congregants of all ages and leading rabbinic, civic, and national figures. A book of tribute was prepared documenting Rabbi Korff's service to the general community and to his own congregation. The festivities were capped with a testimonial dinner at the Lampert Auditorium in the Kehillath Jacob Hebrew School, where the congregation awarded Samuel Korff with a lifetime contract.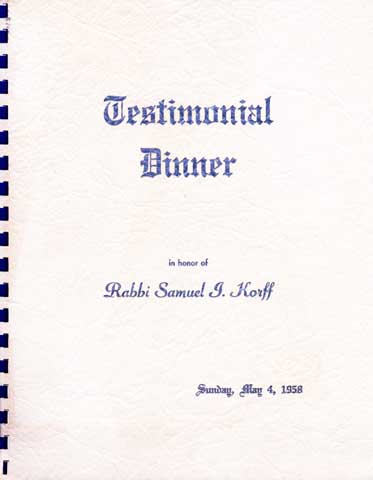 Booklet prepared for the testimonial dinner
Hundreds of congratulatory messages were sent from leading local and national leaders, including Governor Foster Furcolo of Massachusetts, Congressman John W. McCormick, U.S. Senator Leverett Saltonstall, U.S. Attorney General George Finegold, Rabbi and Mrs. Joseph Soloveitchik, Rabbi Moses Soloveitchik and U.S. Senator John F. Kennedy.
David Korff (center) speaking at the testimonial dinner honoring his father in 1958. Sitting to the to the left of David is his wife Harriet; to the right of David is Samuel Korff. Samuel's brother Baruch is standing next to him.
A write up preceding the ceremony appeared in the Jewish Advocate on April 24, 1958. In it Rabbi Korff was described as
"...a very human man of rich humor, a quick smile, a radiant personality, and a dangerous persuasion to defend the underdog. This sense of justice in a world where justice is [not always supreme] is not his most fortunate characteristic. It is, however, his most endearing." <![if !supportFootnotes]>[2]<![endif]>
<![if !supportFootnotes]>



[1] [2] [3] [4] [5] [6] [7] [8] [9] [10]
---
<![endif]>