Summary of Baruch Korff's life and life's work
in his own words
Rabbi Baruch Korff (above) and his second autobiography (right)
This summary appeared in Baruch's memoir, The President and I, published in 1995 and even though it was written in the third person, it was penned by Baruch.<![if !supportFootnotes]>[1]<![endif]>
"Born in the Ukraine in 1914, Baruch Korff represents the seventy-second generation of rabbis in his family, a line that includes Israel Baal Shem Tov, the founder of modern Hasidism in the eighteenth century, and Rashi, the commentator per excellence on Bible and Talmud whose writing influenced Christian thought in the eleventh century. This, according to Professor Yitzhak Alfasi of Bar Ilan University, a leading genealogist of Hasidic dynasties. Following a pogrom in 1919, during which he saw his mother killed, the author moved to Kozec, Poland. He came to the Unites States in 1926 for his bar mitzvah under the instruction of his father, who had been smuggled out of Russia in 1919 under a sentence of treason, then returned to Poland for his education. There he met Vladamir Jabotinsky, and he became an adherent of Revisionist Zionism.
"The author was educated at Yeshiva Ohr Torah in Kozec (Korets), Yeshiva Torath Chaim in Warsaw, and Yeshiva Rabbi Isaac Elchanan (Yeshiva College) in New York City, where he was associate editor of Hedenu, a student publication, in 1933. He was ordained at Yeshiva Ohr Torah in 1934, and the following year he earned the advanced degree of Yadin-Yadin in Talmud and law Talmud and law at Yeshiva Beth Mordechai in Jerusalem.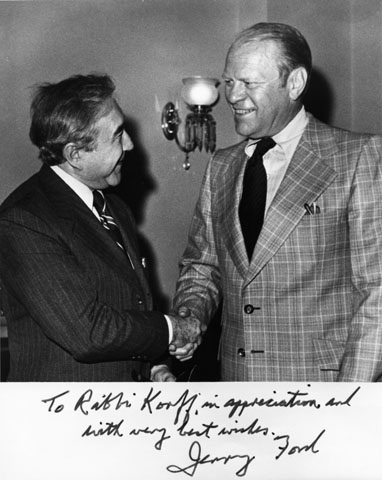 Baruch Korff with President Gerald Ford, circa 1974. The inscription at the bottom of the photograph reads, "To Rabbi Korff in appreciation and with very best wishes. Jerry Ford."
"Over the next four decades, his activities included:
1936-37: headmaster of Yeshiva Torath Emeth, Brooklyn, New York.
1938-40: rabbi of Congregation Hayim Solomon, New York City.
1941-49: adviser to the Vaad Hahatzala, the Union of Orthodox Rabbis of the United States and Canada; adviser to the U.S. War Refugee Board; director of the Emergency Committee to Save the Jewish People of Europe; executive vice-president and United Nations observer of the Political Action Committee for Palestine.
1950-53: rabbi of Temple Israel, Portsmouth, New Hampshire.
1954-71: rabbi of Congregation Agudath Achim, Taunton, Massachusetts, then rabbi emeritus.
1954-74: chaplain with the Massachusetts Department of Mental Health.
In 1973 he founded the National Citizens Committee for Fairness to the Presidency and embarked on his personal relationship with Richard Nixon. In 1974 he founded the President Nixon Justice Fund and the United States Citizens' Congress.
In 1983 he donated his farm in Rehoboth, Massachusetts to Brown University and moved to Providence, Rhode Island, to act as consultant to the university in conjunction with Brown's acquisition of the Rabbi Baruch Korff Archives of more than 50,000 documents and memorabilia covering the author's career.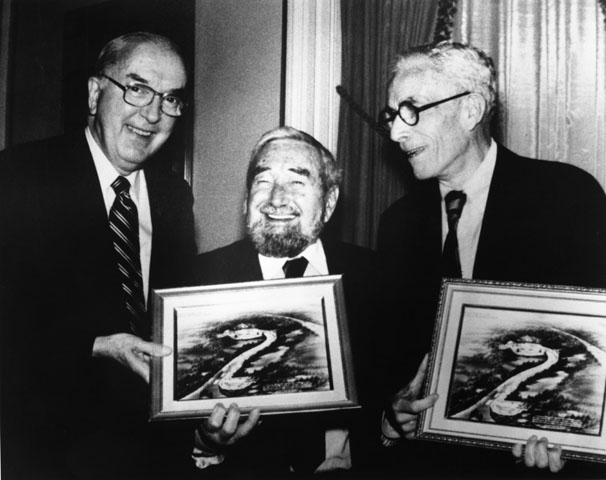 Right: Senator Claiborne Pell, outgoing Democratic chairman of the Senate Foreign Relations Committee, and left, Senator Jesse Helms, incoming Republican chairman, with Baruch Korff at a reception in 1994 at the office of Senator Robert Dole, promoting the American-Israeli Promenade to be developed in Telz-Stone, on the outskirts of Jerusalem.
"For the last fifteen years, he has been a regular panelist on 'Confluence,' a Sunday morning discussion program on WLNE television, the CBS affiliate in Providence. Other panelists on the 30-minute show are George N. Hunt, Episcopal bishop of Rhode Island and Father Peter Graziano, pastor of St. Mary's Roman Catholic Church in Mansfield, Massachusetts. The moderator is Truman Taylor.
"Since the mid-1950s, the author has traveled extensively in the Middle East under various auspices. His other published writings are Novograd Volinksi<![if !supportFootnotes]>[2]<![endif]> (1933), The Warriors Manual<![if !supportFootnotes]>[3]<![endif]> (1943), Flight from Fear (1953), and The Personal Nixon<![if !supportFootnotes]>[4]<![endif]> (1974). Twice married, he had two daughters by his first wife, and one by his second."
<![if !supportFootnotes]>
---
<![endif]>