RABBI BARUCH KORFF

Scholar, Writer, Advisor to Presidents,
Advocate for the Jewish People



Baruch Korff with President Richard M. Nixon at the White House
Rabbi Baruch Korff, the second child of Grand Rabbi Jacob Israel Korff and his first wife, Gittel Goldman Korff, was born on July 4, 1914 in Novograd-Volynsk, Ukraine. Baruch is perhaps best known as "Nixon's Rabbi" for his role in supporting and advising President Richard M. Nixon during the Watergate era. However, it was in Novograd Volynsk, at age 5, that Baruch Korff had the defining moment of his life. During a pogrom in his hometown he saw his world turn mad.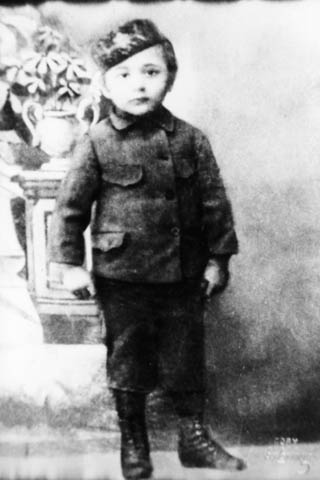 Baruch Korff, at age 5, shortly before the murder of his mother in 1919
Incited by clergymen calling for the death of Jews, many of the Christian townspeople of Novograd Volynsk ran wild through the streets. They ransacked Jewish homes, looted Jewish businesses, and beat and killed their Jewish neighbors. Caught up in this maelstrom, Gittel Korff fled with her infant in her arms and Baruch and her other two young children trailing. The call to kill the Jews mingled with the sound of breaking glass, gunshots, and cries of fear and pain. Smoke from a torched synagogue billowed into the sky. Amid all the panic, confusion, and stampeding, little Baruch recognized some of the rioters, a few by name. But he knew even more of the fallen, and eventually Gittel became one of them.
Baruch witnessed the cold-blooded murder of his mother and at the moment of her death, he branded himself a coward for being too frightened to protect her. In a memoir he wrote 75 years later, he said, My life ever since has been a quest for redemption from that charge.<![if !supportFootnotes]>[1]<![endif]> Indeed, the terrified little boy grew into a man of great words, great actions, and great controversy.
After Gittel's death, Baruch and his siblings were brought to Korets, Poland, across the Ukrainian border from Novograd Volynsk. Here they joined the household of their maternal uncle, Rabbi Yankele Goldman.<![if !supportFootnotes]>[2]<![endif]> There was a price on their father's head, so Rabbi Korff was in hiding.
Baruch received his initial education in Korets under his uncle's tutelage. It is not clear when Jacob Korff rejoined the family but it is known that in June 1921 he married Gittel's younger sister Etta. Baruch may have attended the ceremony.
In 1926, Baruch immigrated to the United States with his stepmother and siblings. They joined Jacob Korff who had immigrated two years earlier. Baruch remained in the United States long enough to complete his Bar Mitzvah training but then returned to Poland to continue his education, first at Yeshiva Ohr Torah in Korets and then at Yeshiva Torath Chaim in Warsaw. Later, he attended Yeshiva Rabbi Isaac Elchanan (Yeshiva College) in New York City. Baruch became an ordained rabbi, earning his Simcha (Yoreh, Yoreh) at Yeshiva Ohr Torah in 1934, followed the next year by an advanced Simcha (Yadin, Yadin) in Talmud and law at Yeshiva Beth Mordechai in Jerusalem.
These two photographs were taken in the same time period but not at the same time. Note that in both Baruch is wearing the same eyeglasses but in the photograph on the right his mustache is fuller than in the other. The inscription on this photo reads: "Song of Songs, Chapter IV, versus 1-5, Boris." The other photo is inscribed in the back: " To my darling sister [Adele] & future brother-in-law [Max Gass], may the almighty guide you always! Dec. 1936."
Baruch came back to the United States when he was about 21 years old. He embraced the freedoms and the responsibilities of being a citizen in his adopted country but by the time he finally settled permanently in America he had passed the magical cut-off age (14 years) for losing a foreign accent. Whenever he spoke English, his flawless grammar and high-octane vocabulary were punctuated with a thick, Ukrainian accent. As he explained, "My accent…may be foreign, but my heart is domestic."<![if !supportFootnotes]>[3]<![endif]>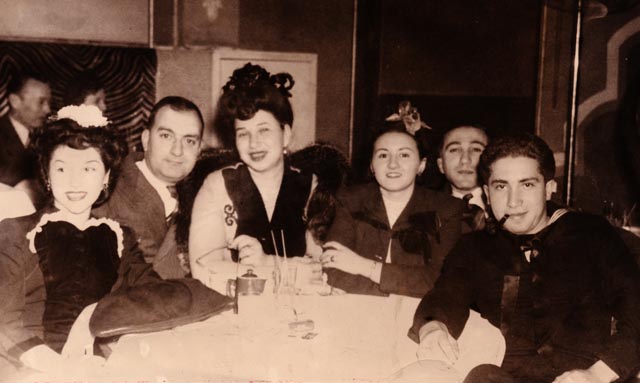 Baruch out on the town with his siblings. Photo above: left to right: (unknown), Max and Adele Gass, unknown, Baruch Korff, Max Korff; Photo below: (unknown), Nathan Korff, Baruch Korff, (unknown), Adele Korff.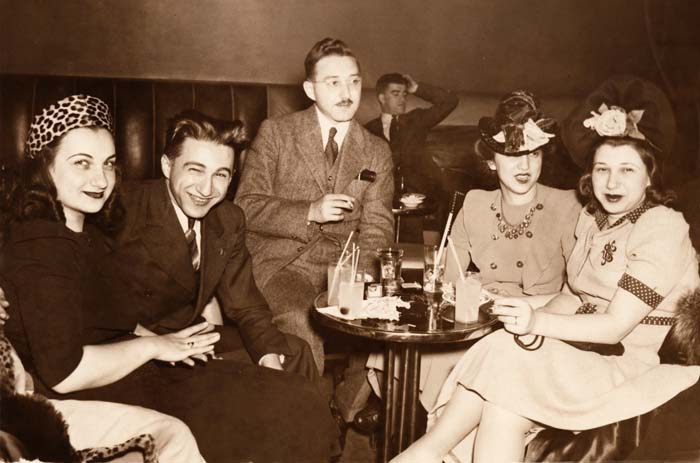 On October 25,1942, Baruch married Naomi Ruth Sternberg, daughter of Louis and Henrietta Sternberg. They had two daughters, Joy (Gittel) and Marilyn. The marriage ended in divorce in 1952 and the children stayed with their mother.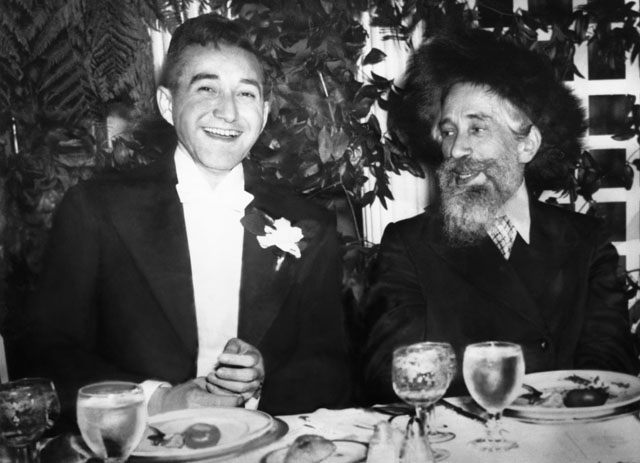 Bridegroom Baruch Korff and his father Rabbi Jacob Korff during the reception for Baruch's marriage to Naomi Sternberg in 1942
Click here for the Wedding Story.
In the mid-1960s Baruch took a second wife, Rebecca Marshall, with whom he had a daughter, Zamira. This marriage, too, ended in divorce but Baruch retained custody of Zamira and raised her to adulthood.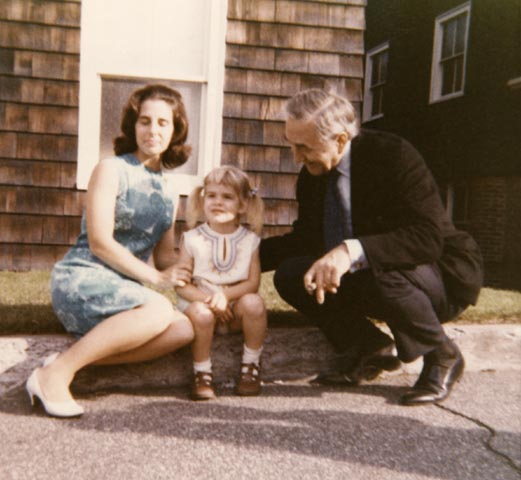 Rebecca, Zamira, and Baruch Korff, September 1970
<![if !supportFootnotes]>


<![endif]>


[1][2][3][4][5][6][7]
<![if !supportFootnotes]>
---
<![endif]>